Bean Stalk Adventure Ropes Course…
My fearless Little Girl loves to try new things. My husband and I took her to BeanStalk Adventure Ropes Course. I think it's fair to say she absolutely loved it! So, this is an indoor adventure center in Jordon's Furniture of all places. Below is a snapshot from their webpage.
BeanStalk™ Adventure Ropes Course – Reading, MA
Even more fun than climbing on the furniture.
Experience the thrill of traveling from one activity to the next. Test your agility and balance, as you make your way across our exclusive, one-of-a-kind sky ropes course. Head up 12 or 24 feet and step off onto zig zag beams, crisscross angled rope ladders, and hold tight for spaghetti hand lines. Walk the plank at 24 feet where you travel out on a 6 inch standalone beam, only to pivot ever so perfectly and return.
Our BeanStalk™ Adventure Ropes Course features:
Two levels of challenging ropes – at 12 feet or 24 feet up
30 exciting activities that include zig-zag beams, spaghetti hand lines, angled rope ladders, crisscross walks and more
For young adventurers, there's BeanSprout™, a specially designed course for children ages 2-7.
Your adventure awaits.
You can find them more information http://www.jordans.com/attractions/beanstalk
My fearless climber was just an inch shy of the height so I had to climb with her. I did not mind. I did a lot of this in college. Although some of the courses were a little nerve wracking. I put on a brave face. I want Little Girl to try whatever she wants and not let fear hold her back. This is a video of her doing some of the course.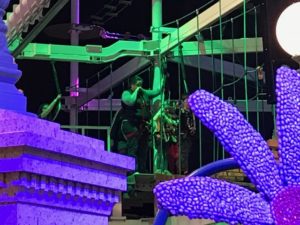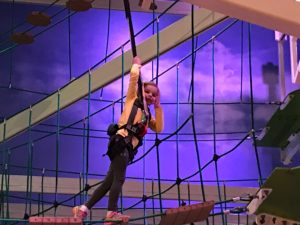 This was a fun adventure. I would take her back again. They do birthday parties as well. We may have to plan her next one there. The good thing is this is an indoor venue and there is a bustle of people below. There is an ice cream shop and liquid firework that you can watch from up high! If you get the chance swing by and test your brave side!