I live in the house my grandparents built in 1947.  It has changed a lot but everywhere I look I can see the handiwork of my grandfather.  There is not a plum line in the whole house but I love it.  He would often "Grampa" things.  Meaning he was a youth during the depression and would repurpose anything and everything.  Even if it meant squishing things in!
As my husband and I moved in we have been making upgrades and improvements.  The first was a major addition of adding back-to-back bedrooms with bathrooms for my mother and my mother-in-law to live in.  Now that this is finished it is time to hit some of the other things on the list.
First up…stairs.  They are worn and tired from years and years of happy little feet running up and down!  I have pictures of me and my siblings as children on these stairs coming down for Christmas.  I also have a picture of my daughter about the same age on the same stairs for the same reason, Christmas!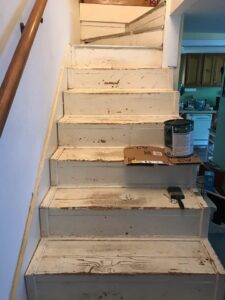 A simple can of white stair paint and some treads made all the difference.  The whole project cost me $125 but makes a big difference!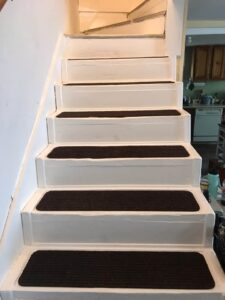 You can see the kitchen in the background…those cabinets will be painted in the fall…stay tuned!