Some days it is just super hard to be a foster kid. Yesterday was one of those days. To read a little backstory go here https://viewfromthebeachchair.com/ptsd-in-foster-kids/.  Yesterday was one of those days when the suitcase came open.
It all started when she woke up.  I could tell she was tired.  She was not grouchy or unhappy.  She just woke up hard.  You know the look.  Sits up…hard to open eyes….has to move slowly.  She was very groggy but happy.  I knew she was up way too late for some reason the night before!  Move through the day to school.  Today was chapel and the speaker spoke of fears and how we have not been called to be fearful.  Miss Johanna spoke about overcoming fears.  I think this stirred something in her.  Perhaps something from her past?  She has always been afraid of the dark.  She sleeps with ALL lights on in her room.  Which is fine.  She likes to have lights on when we are downstairs and hanging out as a family.  Small accommodation to make.  Her teacher came to me (I teach at the same school) and shared that Little Girl was crying at recess.  She was afraid of the Dark Spirit coming to hurt her friends.  I guess the wind was blowing?  This has been a reoccurring thought in her head.   We are pretty strict with what she watches but in her earlier years, her bio parents would let her watch all sorts of zombie gory horror movies.  I think this has stayed with her. So today for some reason it was with her.  I popped in to check on her and to bring her dry socks.  Hers got wet at recess.  As I was putting them on I could see her melting down.  Irrational fears, unstoppable tears.  In the hallway, I pulled her into my lap and tried to console her.  Offer some words to bring her back to reality.  Was not going to happen so I did the only thing I could do.  I withdrew her from class for the day and brought her to my classroom.  I tucked her into my nest chair with my laptop and a movie.  She spent the last hour and a half of school tucked close by content to just be.  She would have fallen asleep I am sure except the fire alarms were being tested and would go off every 5 minutes….but that is another story.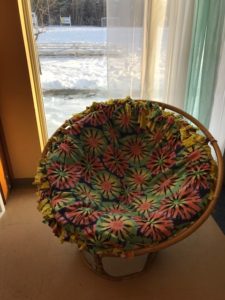 Some would say I was too easy on her and should have booted her back to class to stick it out.  Some days I do that.  Kiss on the head and toss her back in.  Today was not one of those days.  First of all, she was tired.  Life is hard enough but when you are tired it just adds a whole new dimension.  Second of all, I recognized the talk in chapel stirred up some emotions she could not put a name to.  Fear, anxiety, sadness?   Who knows?  But I do know her enough to see it in her.  As adults, we have the vocabulary to express our needs.  A need for a mental health day.  A need for a staycation.  A need to take a timeout.  Children, especially ones from a traumatic background, don't always have the words.   Her needs at that moment were simple.  She needed to be in close proximity to me.  She needed to not be with her classmates.  She simply needed to just tap out.
We were able to do her missed work at home after dinner.  She was rational.  Happy to learn.  She is only in 1st grade so it was easy to do.  She was able to breeze right through it.  My husband and I try to keep life as normal as possible for her but we also realize life is not predictable and can sometimes be messy.  When we signed on to foster and soon adopt her we realized that the good comes with the hard.  With creativity and flexibility, we can make it through those hard days.