I was driving Little Girl home from a playdate and took the chance to look around. So many houses had fences. Nice houses. Nice cars. Nice fences. No porch. Or a very small porch.

I had the privilege to grow up in the house my grandparents built. After they passed my mom continued to live there. I lived there as well. My sister and her husband were looking to build. After much discussion, we decided to take the 4 original rooms and add on making it a 16 room "sort of" duplex. It is not a true duplex because you can walk between both houses without going outside. There are 2 kitchens, 2 living rooms and loads of bedrooms and bathrooms. A multi-generational house. We are very close! I have since married and moved out but live less than a mile down the road. My brother lives less than a mile in the other direction!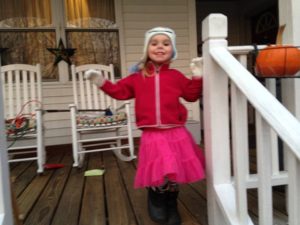 One thing we added was a huge farmers porch. One with rocking chairs and lovely flowers. Any given day you can find my mom on the porch chatting with this person or that. You can not come and drop something off without stopping to sit a spell. Even myself when I come over find myself sitting in the rockers chatting away. People walking past always wave and say hi. My sister's kids grew up reading on that porch. Many a thunderstorm was observed on that porch. Their mailman Charlie has been known to have a seat and take a break on that porch! The memories made and still being made on that porch are priceless.
Compare that with the houses with fences. Fences keep people out (or little ones in). Porches invite people to come and sit a spell. More so when the porches have comfy rockers. In a world where there are so many walls up, we need more porches. Walls due to political disagreement, lifestyle choices, race, color, economic status…so many walls.   We need more porches. A place to come together and just chat. We could all use some time on grandma's porch!