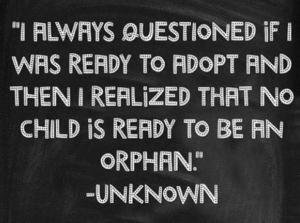 November is National Adoption Month.  This started almost 20 years ago to bring awareness to children in foster care.  It first started in 1976 when Massachusetts Governor Michael Dukakis announced an Adoption Week to promote awareness of the need for adoptive families for children in foster care.  In 1984 President Ronald Reagan proclaimed the first National Adoption Week.  In 1995 President Bill Clinton expanded the week to the entire month of November and thus it continues.
According to Adopt Us Kids  https://www.adoptuskids.org
There are currently more than 400,000 children in foster care in the United States. They range in age from infants to 21 years old (in some states). The average age of a child in foster care is more than 8 years old, and there are slightly more boys than girls.  Of those 400,000 over 100,000 are open for adoption.  Meaning the parental rights have been terminated and they are looking for their forever home.
Fostering children is not for everyone.  It is a hard road to walk but there are many ways to help support those that do.  
Provide Respite 
Get your foster care license and provide respite to other foster families or do emergency foster care. Emergency care can mean having a foster child in your home for a short period of time. An emergency placement can last anywhere from 24 hours to 30 days.
Become a Court-Appointed Special Advocate/CASA
CASA workers are volunteers that work with the court and the foster homes to see that the children are not lost in the system and that their needs and wants are heard.  You are the child's voice in the courtroom.  Training is free and you will make a difference!
Donate
Donate items to foster care agency. Many need school supplies, shoes, clothes, or even toys. Suitcases or bags of any kind are often needed. Did you know that many children go from home to home with their belongings in trash bags?
Bring a meal or a gift card
Do you know most kids show up wearing what they have on their backs?  Emergency placement means they were removed as is and taken to a foster home.  It is up to the foster family to clothe that child.  Often times it means an emergency run to a local department store.  If you know of a foster family that gets a new child, show up with a gift card to your local store.  Even $20 will give that kid something to put on.  Something new.   Something their own.  Also, bring a meal.  Most times a new child will cause some shifting in life schedule.  It is par for the course.  Let this new family know they are not alone.  Small things like this mean a lot in the foster care community.
Every day I look at our Little Girl and am thankful that she is a part of our life.  Our journey was long and winding but in the end, we have our daughter and more importantly, she has a forever home that will always be hers.