Fresh Amaze…not your momma's food saver…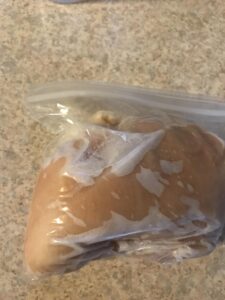 My refrigerator died.  You know what that means.  Cleaning out the freezer as well!   So much waste.  A lot of freezer burn on my food.  Package after package I ended up throwing away.  It is literally money in the dump.
Would you want to feed this to your family?

YUCK!
I must have thrown so much food away.   I tend to buy in bulk when things are on sale.  Now more than ever you need to make your food dollars stretch.   I thought there must be a better way to protect my investment!  Thankfully my friends over at Fresh Amaze came to the rescue as I restocked my fridge!
I was a little skeptical as I remember my mom's old food saver.  It was big, bulky, and hard to use.   The Fresh Amaze food saver is sleek in design and super easy to use.  It takes up just a bit more space than your box of plastic wrap!
I prepped my chicken by cutting off all the nasty pieces that make my child roll her eyes so far back in her head I fear she will never recover…seriously…I prep my chicken ahead of time so when it comes time to use it I can just unthaw and  not have to worry about trimming later.
With prepped chicken it is simple to use.  Place the bag in, close and click, press a button.  So easy!
A few minutes later my chicken is all sealed and ready for the freezer!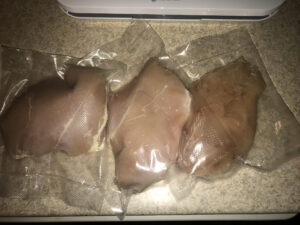 SAY NO TO FREEZER BURN 
Keep your food fresher longer.  Stretch those shopping dollars by buying in bulk when things are on sale.  Keep it longer and make life easier!
Don't miss out!!!
Get the Fresh Amaze Food Saver Vacuum for 15% off!!
Use the promo code
"15freshamaze"