The time has come for summer camp! Little Girl is 7 and she is going to spread her wings just a bit. She is heading to camp.   Well…I should say we are both heading to Maine. I am going to lifeguard at a Christian camp for 2 weeks and she is coming with me. We will leave Husband at home to recover from elbow surgery and to keep the home fires burning while we brave the lakeside of deep woods Maine. I have made it sound pretty backwoods but it is actually a lovely camp nestled on a big, clean lake in Maine. The first week Little Girl will be with me in my room in the staff housing. She will putter with me on the beach and swim while I work. On our off time, we will be checking out the sights and sounds of local Maine. Perhaps do some retail therapy. Visits some museums and parks. The second week she will brave new worlds and become part of a cabin for the week. This will be her first time sleeping away from family since she came to live with us at 4 years old. I think it will be good for her to give it a try. With that said if cabin life is NOT for her she will be part of the day program and sleep in my room with me at night. My husband and I want to encourage her to spread her wings but kids who are adopted from foster care can sometimes have quirky issues when it comes to sleeping and nighttime. We understand that about her and are prepared for both.
First-time mom here sending a kid to camp.
What to pack? How to pack? Since she will be with me the first week and a cabin for the second I am preparing 2 separate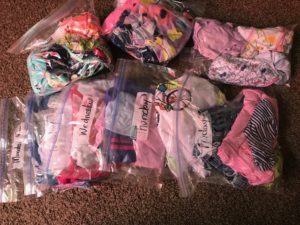 bags. When she is with me she will wear her sundresses and scooter skirts. Simple. Easy. For her week as a camper, I am putting her outfits in plastic zip lock bags. Soccer shorts and a t-shirt. Everything from head to toe with each bag labeled by day. Too much? Not sure…but I want to make it easy for her to be independent. I will, of course, pack extra's of everything. One thing I noticed in my many years of working camp is funky towels. I will pull the mom card and switch out her beach towels a few times that week. Nothing harsher than swampy towels. I bought her this cheap drawstring sack from Target and put her toiletries in. Simple to grab and go. I am not expecting her to go through the shampoo. After all, it is camp! She has sneakers and flip-flops and a ready to go attitude!
So wish us luck as we head off on this adventure.