Well being in the Northeast with snow storm Quinn overhead make the perfect day to try out these unicorn cupcake wrappers. To celebrate our adoption of our little girl we are having a gotcha party in a few weeks. A party to show her off and to say thanks to all those who joined us on this journey. Well, Little Girl decided she wants a unicorn themed gathering. I came across these adorable cupcake wrappers and toppers that turn your normal cupcake into a unicorn! So today we baked a trial run and I must say they are even more adorable in real life!
Here is the ad on Amazon.


Looks easy enough right!  Well, right you are.  They come flat and are easy to assemble.  They are very simple to wrap around your cupcake.  You can tape them or just use the notch to secure the wrapper.  The toppers are easy to put on top.  They are made of paper so you need to use caution as to not bend the stem when inserting them.  What you are left with are adorable cupcakes ready for any party or celebration!
I know at my daughter's school they are allowed to bring in treats on a birthday.  These wraps would liven up any cupcake!
Here is my final project.  Not too bad I would say!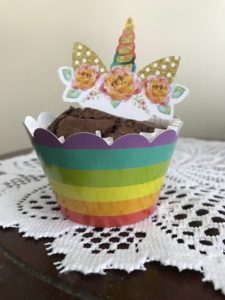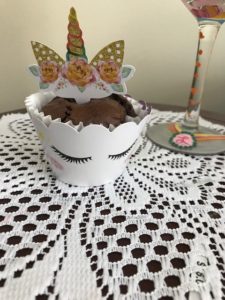 In this kit you get 24 wrappers.  The wrappers are double sided so you can have the face side out or the rainbow side out.  It also has 24 toppers.  The toppers have the ears and the horn and are decorated with flowers to give it a magical touch.  I got the bonus back and it also came with 10 pink spoons with unicorn pictures on the ends.   These wrappers and toppers are an easy way to dress up any cupcake!
Check them out here https://www.amazon.com/Unicorn-Cupcake-Topper-and-Wrappers/dp/B079KT9PG4?ie=UTF8&keywords=unicorn%20cupcake%20topper%20and%20wrapper&m=