Buttprints in the sand…
There was a famous poem floating around years ago. Written by Mary Stevenson, it is called "Footprints in the Sand", and reads as follows: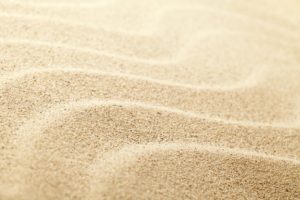 Footprints in the sand
One night I had a dream…
I dreamed I was walking along the beach with the Lord, and
across the sky flashed scenes from my life. For each scene, I noticed two sets of footprints in the sand; one belonged to me, and the other to the Lord. When the last scene of my life flashed before us, I looked back at the footprints in the sand. I noticed that many times along the path of my life, there was only one set of footprints.
I also noticed that it happened at the very lowest and saddest times in my life. This really bothered me, and I questioned the Lord about it.
"Lord, you said that once I decided to follow you,
You would walk with me all the way;
But I have noticed that during the
most troublesome times in my life,
There is only one set of footprints.
I don't understand why, in times when I
needed you the most, you should leave me."
The Lord replied, "My precious, precious
child. I love you, and I would never,
never leave you during your times of
trial and suffering.
When you saw only one set of footprints,
It was then that I carried you."
My take on it….buttprints in the sand!
I love this poem. But I think in the case of my life, it would be "buttprints" in the sand.
I have tracked with Jesus for a good many years. Life has not always been easy, but I know God has a plan for my life. For example, I was raised by a single parent. My mom worked extremely hard to keep us afloat and sacrificed much. Even then, I knew God was with me.
However, I've often tended to want to do things MY way. Maybe it is the stubborn Irish in me, or my tenacious inclination to fight for what I want. Whatever it is, I would say God has had to firmly drag me at times. You know the kind of drag I am talking about…my flailing feet in his hands, and my butt dragging in the sand! That's me. Right there. Bouncing along in life. Removing the grains of stubbornness from various prideful crevices along the way leaving buttprints in the sand!
Such was the case with my husband. If you have read any of my posts, you know I met and married my (only) husband later in life. All through my 20's and 30's, it seemed I watched EVERYONE under the sun get married…except me. I dated a few guys here and there. Yet inevitably, God dragged me away from those situations with my butt scraping along in the sand. In hindsight, it was the BEST thing for me.
I've had some job offers with the potential for more money and better hours. Surely this was what God wanted for me, right? Nope. God swiftly dragged my butt away from working in public schools, and I continue to faithfully plug away at a small Christian school. Daily, I am afforded the opportunity to speak truth into the lives of those in my classroom. And you know, I would not change a thing.
Many times, I am like a stubborn toddler throwing a hissy fit…wanting what I want, when I want it…NOW! God, in His loving kindness, does not give it to me. At least not at that moment, and usually not the way I pictured.
This is true in life. So many times, we fight for the dry, tasteless rice cake we already have in our hands. We hang on tight, all wild-eyed and frazzle-haired, not willing to give it up. We fret and fuss over this crumbly, pale, lump of yuck as if it's the best and only option. Yet God says, "Look, my child. Turn around. Let go. Here I have an entire feast for you…and not ONE single bland item. All of it is deep-fried, and cooked to absolute perfection."
I am getting better. The three-plus-year journey to adopt Little Girl was a true testimony of trust and obedience. There were definitely times when God carried my husband and I. Then there were times when God dragged us…butts in the sand. The process was long and hard but as always, God's way was SO much better than anything we could have planned. The adoption was HIS victory.
I am sure at the end of my journey on earth, I will look back and see the countless times God carried me. I will also see so many other times where he dragged me because I am just that stubborn. There will also be times when I walked, side by side with my Savior, enjoying the fellowship and feast He set before me.
My dear friend, regardless of where you are in your journey, I hope you will be encouraged to know that God is with you. He is in front of you, behind you, and beside you. And oh yes, even dragging you sometimes!