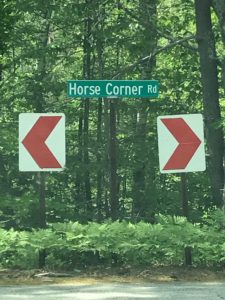 Driving Little Girl to a birthday party in another town this weekend, I had before me a lovely route to travel. I had been to this destination a few times before, so on this occasion I was looking at landmarks instead of glaring at Mapquest. I really paused, during this trip, to marvel at the piece of God's great earth that I get to call home.
I came to an intersection and (safely) took these pictures. On one side of the road is the street sign "Horse Corner Road", and on the other is a graveyard…literally in the middle of nowhere! This is one of the amazing things about New England; quaint, elusive, hidden jewels that you stumble upon when you take time to travel along their paths.
It is very typical in our area to find random graveyards and after doing some research, I found that New England is filled with many small church plots and garden cemeteries dating back to the 19th century. There are upwards of 200,000 such sites! This count is not exact, as every few years developers stumble upon an unmarked graveyard, most often for Native American people. If a developer comes across a body while excavating, they are legally required to report this find to the state immediately. Many times, this is how such graveyards are discovered…by accident.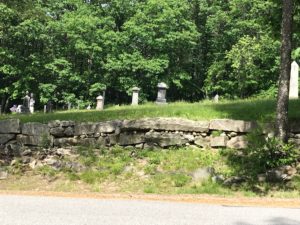 And what do they do with the graveyards once they are disturbed? State laws are in place to protect the small plots scattered around New Hampshire. When a developer does seek approval to move an old plot, it can take up to 3 years before a shovel even hits the dirt. Such ventures are usually tied up in red tape, in an effort to find surviving relatives and obtain their approval. Specialists must be hired, and the research process can be long and very detailed. It can be costly (amounting to as much as $7,000 per body!) to delicately process such tough subject matter- balancing the living with the dead. Next of kin can ultimately refuse relocation of their relative's body, but that directive can be overridden if the needs of the greater good can be proven.
When at all possible, developers like to keep the graveyard intact, opting to develop uniquely around it instead. Interestingly enough, they need to maintain a 25-foot perimeter/buffer, because it is not uncommon to have bodies placed outside the delineated plots. Those bodies were mostly of people who were not baptized, or young children who did not live long enough to be baptized, or slaves. Even in the afterlife, there was a class system for society, or so they thought.
So the next time you are driving through the backwoods of New England, take a moment to look around since New England is rich with colonial history. The history tucked into those little plots is amazing.
Think about it. Those headstones memorialize actual people. People who were quietly carving out a living in the early years of our fair state. People who boldly faced hardship and sickness. People who, like you and me, worked and had families and celebrations and loved and lost. But unlike us, their lives were not sprawled out over social media. They will forever remain, for the most part, a mystery. For these people, their rugged plots will closely guard the secret puzzling pieces of the lives and love at rest in them.