Once a year we make the annual pilgrimage to the state below ours to get our taxes done. Our accountant lives there and she does an amazing job so it is worth the trip. We make a night of it and stay in a hotel. Well, I asked Little Girl to pack her own bag. Now…keep in mind I am not new at this. I also packed her everything she would need in my bag as well. It was just an overnight stay at a hotel with a pool. She has stayed at this hotel before so she knew what to expect. Well, this is what she packed.  Let me break it down for you.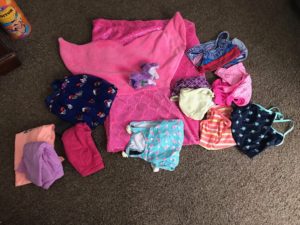 One mermaid blanket
One skirt
Two pairs of leggings
One purple stuffed dog
Two shirts
Six swimsuits!
What is missing?
 Underwear
Socks
Pajama's
Toothbrush
Toothpaste
Hairbrush
The real kicker is when we were headed to the hotel we asked her where her bag was.  Her answer…."At home on the stairs."   The only thing I did not put in my bag was her swimsuit…probably because I could not find any….ha ha.  So a quick stop by Target to get her yet ANOTHER swimsuit and we were off to the hotel for a lovely overnight stay.
And this ladies and gentlemen is why mom's luggage is always heavier and bigger than anyone else's!