Gotcha Day!
Gotcha Day is the day of adoption!
We would like to introduce our daughter. A spunky 7-year-old little girl who stole our hearts the second we met her. There are no words in the English language that will adequately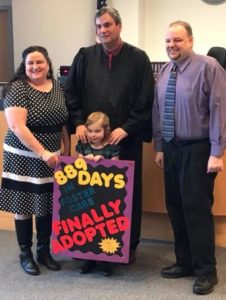 describe the feeling of sheer relief to know this process is over. She is our forever little girl.
There are so many people to thank for our Gotcha Day. When she first came to live with me many friends and strangers reached into their own closets to dress her and provide toys for her. Crew friends who supported and cheered along the way. Family members who loved her unconditionally.
It was really the body of Christ at work. As I look back through this whole process I can see God's hand moving the pieces. See Him working in His time. When I wanted to fight He said NO. Be still. I am working things out. When I thought the outcome would be my worst nightmare he said WAIT. Wait to see what I am going to do.
Early on in this process I claimed Jeremiah and changed it just for her. "For I know the plans I have for Little Girl, plans to prosper and not to harm her plans to give her a hope and a future." (29:11) There were times at night I would pray this over her as she slept. This was my only form of comfort as an outsider. Yes, we were an outsider in the fact we had no legal rights nor say as to what she had to do in regards to visits and the potential for her future.
We could only watch it all play out. It was through many hours on our knees, countless tears, and many long conversations that we were able to patiently watch and wait. Alan has been a rock through this whole process. He was her Daddy from the start. He will be her provider and protector till such a time to give her hand away. I know it will not be all roses and sunshine as we navigate this path. The adoption was an ending to her in Foster Care but a beginning of her as a legal family. We agreed to the ups and downs. We will love her unconditionally for as long as we draw breath. Happy Gotcha Day little girl. #familyof3 #fostertoadopt
To see her adoption party click here!